Moff Animal Cafe
: Tokyo Hachioji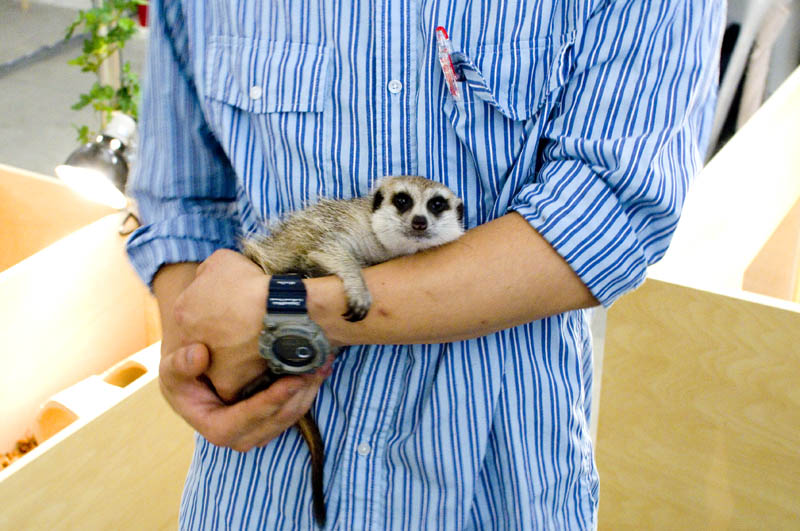 This multi-species pet cafe promises to be fun for the whole family, and indeed the visitors here range from young kids to senior citizens. The staff seem to enjoy their jobs, and they go out of their way to introduce the various resident animals in their care, encouraging visitors to interact with them. The animal population represents a good mix of familiar domestic pets (cats, guinea pigs, rabbits) and slightly more exotic specimens, including a very affectionate meerkat and a playful prairie dog.

There are also several cute hedgehogs on duty, and you can pick them up and hold them after putting on a pair of heavy gloves. Depending on the time of day you can buy treats and chow for the guinea pigs, tortoise, cats and some other animals, with most snacks priced at Y200 for a smallish portion. Other critters include lizards and salamanders, several types of owls, numerous parrots and parakeets.

The cafe is set up to handle weekend crowds comfortably, with a number of small cafe tables where you can have coffee and soft drinks, and lots of tiny stools where you can sit and watch the animals. There are separate screened-in areas for the dozen or so cats and the flock of small birds, with plenty of seating in both. The self-service drinks bar is in back, and you can help yourself to as many drinks as you like for a Y200 charge.

As with other animal cafes, you're asked to wash your hands when you enter, avoid flash photography, and refrain from touching certain of the animals when they're on a break. (There's a page-long list of rules, all in Japanese, that you'll be shown when you enter.) There's no time limit, and the average visit seems to be around an hour or so. There are discounted admssion prices for younger children, although there's a good assortment of animal plush toys on sale at the exit, so any monetary savings may be only temporary.
Moff Animal Cafe
042-673-7680
Tokyo Hachioji / Animal cafe
Open 10am-8pm (enter by 7pm) daily.
Admission Y1000 with no time limit; Y200 for open soft-drink bar
Average visit time: 30-60 minutes
Tokyo, Hachioji-shi, Higashi-Asakawamachi 550-1, Iias Takao 1F.
7 minutes from Hazama station (Keio line); 12 minutes from Takao station (Keio, JR lines)