Hogoken Cafe
: Tokyo Hachioji
This is the first Tokyo branch of an Osaka-based group of rescue-dog cafes, located a few minutes north of Nishi-Hachioji Station on the JR line. The second-floor cafe area is a very lively place, with happy dogs in constant motion, running in circles around the tables and chairs and greeting new visitors when they arrive.

In spite of the frenetic activity it somehow feels relaxed here, and for some reason it's much less noisy than other dog cafes we've been to, with only minimal bouts of barking. During a recent weekday afternoon visit the cafe was full of visitors, with nearly every table occupied, and weekends are even more popular. There were fifteen frisky pups and two laid-back cats in residence, all of them available for adoption.

There's no hourly charge but you need to buy a coffee, tea or other drink from the menu, with prices starting at Y550. You can also purchase a big bowl of doggy treats for Y650. Children are welcome, and if you like, you can bring along your own dog to socialize with the residents. A separate menu of meals for dogs is available.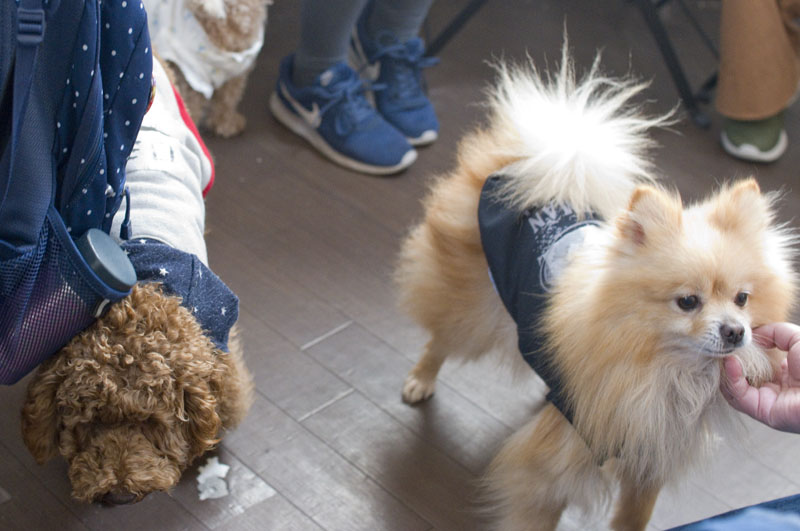 Tokyo Hachioji / Animal cafe
Open 11am-6pm daily.
No cover charge, but you must buy a drink (starting at Y550)
Average visit time: 30-60 minutes
Tokyo Hachioji City, Sennincho 3-6-10.
5 minutes from Nishi-Hachioji station (JR Chuo line)