Forest of Owl
: Tokyo Akihabara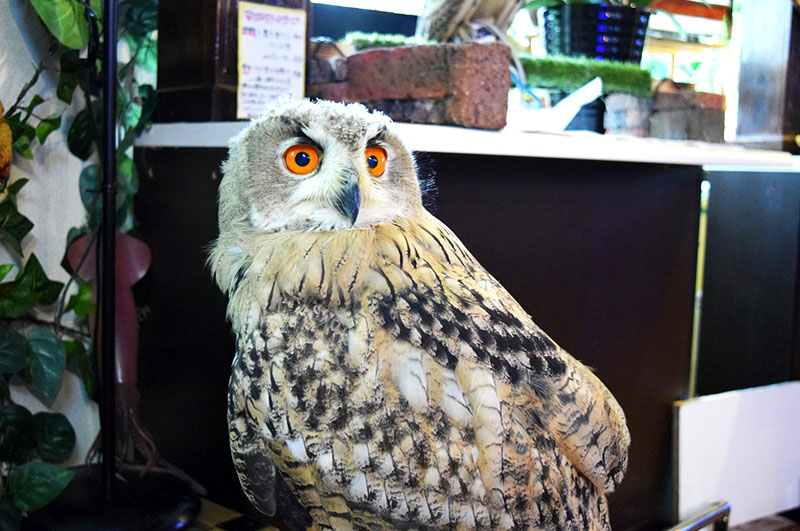 Although it just opened in May 2015, the cafe-bar "Forest of Owl" (Auru no Mori) is a game changer. Just pay the Y500 entrance fee and Y200 soft drink charge (a huge choice from a bank of vending machines), and you're set for an unlimited time with the birds. (Apparently there can be a time limit on weekends if it gets very busy, but weekdays you can nurse a drink there for hours.) Better still, no appointment is necessary.

As you'd expect from a venue that used to be a maid cafe in Akihabara, the decor is a little unusual. It's not exactly a forest of owls. Imagine a tropical-fish-loving, anime fan had opened a bar in the jungle and you'll get some idea of the atmosphere.

Owls are perched among verdant foliage in front of big screen TVs, aquarium tanks, champagne bottles and Christmas lights. The eclectic background music ranges from old-school jazz to Michael Bolton.

There are about a dozen birds to pet, photograph, and even perch on your hand or head. The species include barn owls, eagle-owls, scops and tawny owls. On our visit there were several hatchlings, and an impressive, hulking Eurasian eagle-owl who turned out to be just two months old.

The most popular bird is a northern white-faced owl, a cute and friendly little critter without a leash. He'll sit on your arm and pose for pictures before suddenly flying off to his perch, sending a staff member running to bring him back.

The system is streamlined and efficient. New visitors receive a short talk on bird handling before entering the bird room, have their hands disinfected, and then are free to perch on a bar stool or interact with the owls.

You can claim your drink at any time, and the bank of vending machines has a live-streaming screen that shows your drink being made inside the bowels of the machine, as it happens, live! Apparently this is popular photo op with tourists.
Forest of Owl
03-3254-6366
Tokyo Akihabara / Bird cafe
Open 2-11pm (Wed 5-11) daily.
Entrance fee Y540
Average visit time: 30-60 minutes
Chiyoda-ku, Soto-Kanda 4-5-8, 5F.