Usayu
: Osaka Ibaraki City
Much more comfortable and spacious than other rabbit cafes we've been to, this charming suburban shop is spread out over three rooms and organized into nine separate rabbit play areas, so visitors can get to know the rabbits one at a time. We visited on a busy Sunday afternoon, but even then there were plenty of rabbits to go around, with opportunities to exchange rabbits whenever we liked.

The interior is filled with sundry stuffed animal toys, bunny slippers, and just about any kind of rabbit-themed ornament you can imagine. Most rabbit zones include raised platforms and a seating area big enough for a couple of visitors, along with a fenced-off section of floor. Aprons are provided to protect your clothing.

A rather outgoing English angora rabbit was recommended by the staff, who characterized it as being not very rabbit-like. We also played with a massive grey French angora rabbit named Rum (or possibly "Lamb"), who weighed in at 4kg. Luckily we took notes, because at the end of our visit we were quizzed on which were our favorite rabbits.

Coffee and other soft drinks are free of charge from the self-service machine, included in the cover charge. We were also provided with a small cup of rabbit chow at one point, although our chosen rabbit seemed just as interested in chomping on hay - perhaps he had had a big lunch.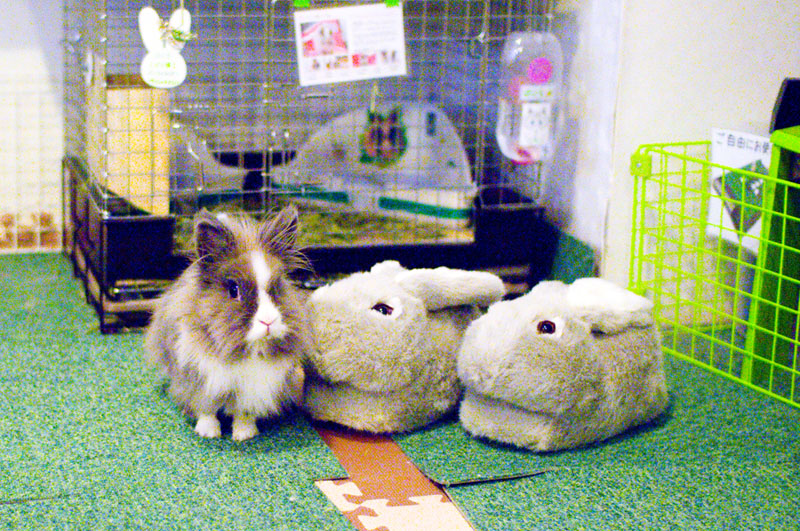 Osaka Ibaraki City / Rabbit cafe
Open 1-7pm (last entry 6pm). Closed Wednesdays, Thursdays.
Cover charge is Y1300 for the first hour, and Y500 for each additional thirty minutes.
Average visit time: 60 minutes
Ibaraki-City, Osaka-fu, Matsugamotocho 3-16, Bardens Club Bldg 2F.