Kobe Animal Kingdom
: Kobe Port Island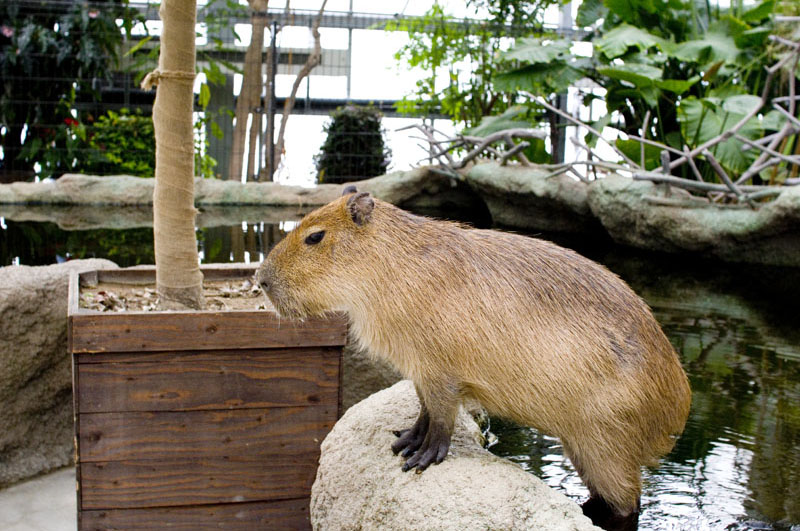 Feed a family of friendly kangaroos and pet a capybara still wet from its bath. Have your feet nibbled on by doctor fish and get pecked at by squawking parrots - this is no ordinary day at the zoo. Kobe Animal Kingdom has more in common with Japan's ever-popular animal cafes - places where you can drink coffee while you play with cats or rabbits or owls - than it does with your standard tigers-and-elephants zoological garden.

The animals here are all friendly (or at least not especially dangerous), and it's perfectly okay to feed them - in fact there are chow dispensers everywhere. Occupying an enormous greenhouse-like complex on Kobe's Port Island, Animal Kingdom also incorporates a botanical garden with lily ponds, an open-air aviary, and an outdoor zone (newly opened in Spring 2015) where many of the larger animals roam around.

There are more than a dozen different areas to explore, starting out with relatively tame interactive zones for cats and dogs, rabbits and guinea pigs. Next come parrots and giant tortoises, toucans and other tropical birds, sloths, Patagonian maras (hare-like rodents) and a herd of capybaras (which resemble giant hamsters).

Venturing outdoors, we found kangaroos, alpacas, sheep, goats, horses and a camel roaming the fields behind the greenhouse, while back inside dozens of species of exotic birds flew, strutted, or swam around in the open-air, mesh-ceilinged aviary. Strategically placed food dispensers sell 100-yen packets of chow tailored to each species' dietary requirements - an easy way to make friends with the local critters.

The enormous water-lily pond enclosure is the venue for a daily bird show, where trained parrots, hawks and other birds perform - mostly flying back and forth between their trainers on command. Other attractions include horseback rides, a New Zealand farm show, and various performances featuring cats, dogs, red pandas and marine animals. Shoebill storks pose for photos in the Big Bill Lagoon, and visitors can feed fish to the resident colony of penguins in their habitat.

When you're ready for a break, a buffet lunch is served in the aptly named Flower Forest restaurant, or you can grab a snack or drink in the Alpacafe or the Retriever burger shop. All in all Animal Kingdom is a fun, relaxing place to spend some quality time with animals - both exotic and domesticated - that you might not otherwise encounter.
Kobe Animal Kingdom
078-302-8899
Kobe Port Island / Animal park
Open 10am-6:30pm (last entry; Sat, Sun -5pm). Closed Thursdays.
Adults Y1500
Average visit time: 1.5-3 hours
Chuo-ku, Kobe, Minatojima Minamimachi 7-1-9.