Hogoken Cafe
: Tokyo Hachioji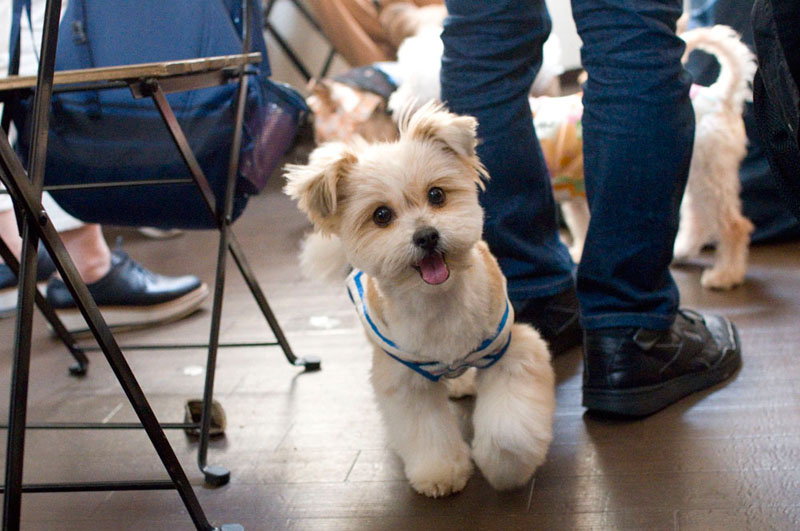 Relocated in late 2016 to new quarters in suburban Hachioji, this is the first Tokyo branch of the Osaka-based group of rescue-dog cafes. There were eight enthusiastic dogs and one very patient Persian cat in residence during a recent visit, all of them available for adoption.

The small pack of friendly dogs here are enough to keep things lively here without getting too chaotic, and we noticed the playroom was much less noisy than some more heavily populated dog cafes that we've been to. The dogs represented a variety of breeds and ages, including a frisky three-month-old Japanese Spitz puppy and a rather docile four-month-old Shiba that we were encouraged to pick up and hold.

While the shop can get crowded on weekends, on a weekday afternoon there was only one other customer, along with two staff members who spend most of their time playing with (and cleaning up after) the dogs and chatting with customers. Children are welcome, and if you like, you can bring along your own dog to socialize with the residents.

There's no hourly charge but you need to buy a coffee, tea or other drink from the menu; prices start at Y550.
Tokyo Hachioji / Animal cafe
Open 11am-6pm daily.
No cover charge, but you must buy a drink (starting at Y550)
Average visit time: 30-60 minutes
Tokyo Hachioji City, Sennincho 3-6-10.
5 minutes from Nishi-Hachioji station (JR Chuo line)