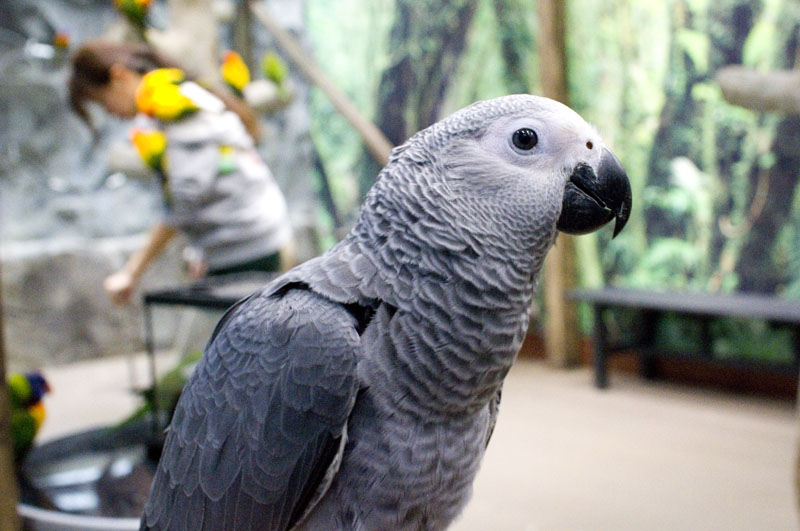 Prepare for a very interactive experience at Bird Zoo - a good number of the more than 100 resident parrots and other tropical birds in the aviary here will attempt to perch on your head and shoulders at some point. They're just being friendly, although a parrot's idea of friendship often involves a bit of pecking, squawking and gentle biting. Attentive human staff are on hand to introduce you to various birds, or take them off your hands (and shoulders and head) if you're feeling overwhelmed.

Our African Grey Parrot was happy to have his neck rubbed gently, while Sun Parakeets, Rainbow Lorikeets and other smaller birds were content just to sit on shoulders and make a lot of noise. You can also gently bounce the small birds up and down while they're sitting on your finger. Bird snacks can be purchased for Y100, but they're really unnecessary, as you'll get plenty of attention even without dispensing food.

The rules are typical for a bird cafe, although they seem to be written only in Japanese. Most important - make sure to turn off the flash on your camera or cellphone. If you want to use a locker, give the reception person a refundable fee of Y1000 and you'll get a key. You'll also get a birdproof clear plastic bag to carry your camera and phone and so on. Before you get to the Parrot Room there's a waiting area where you can put on a waterproof poncho. A few resident owls stand guard over the ponchos - you can photograph them, but please don't touch.

With its suburban location inside a new shopping mall, Bird Zoo seems to get much less busy than central-Tokyo bird cafes like Tori no Iru, but weekdays are still recommended for maximum bird enjoyment. Initial entry is for either thirty or sixty minutes, with a surcharge if you run late, so make sure to keep track of the time.

In front of the bird zone is a small cafe area where you can get coffee or tea (starting at Y200). There's also a separate dog menu if you want to treat your pet to a snack or dessert. The aviary and cafe are inside the Kojima pet store, next to the dog-grooming area.
Chiba Kashiwa / Bird cafe
Open 11am-7pm (enter by 6pm) daily.
Admission is Y200 for every ten minutes. There's also a refundable Y1000 deposit for your locker. Bird seed is Y100 per portion.
Average visit time: 10-30 minutes
Kashiwa City, Chiba, Oshimata 950-1, Sevenpark Ario Kashiwa 1F.
To get to the Sevenpark Ario Kashiwa mall, take the #31 bus from Kashiwa station. The bus runs 3-5 times per hour, and takes around twenty minutes. Get off at the Sevenpark Ario-mae bus stop.